Careers
ZeroMile is always searching for talented developers,testers and designers with expertise in cross-platform application development. We believe in growing our company with the growth of our people. We are a motivated team at work and our prospective team members can look forward to achieve long term career goals working with us.
As an ZeroMile associate, you will design, develop, test and maintain various projects and their functions, features and supporting systems. To become our associate, you will need to have a creative approach. You'll also need to be able to follow technical plans. Excellent communication and customer care skills are also important.
Search Engine Optimization Expert


The Search Engine Analyst will be responsible for monitoring overall search engine performance for SEM campaigns. The Search Engine Analyst will work with the Search Engine Marketing Manager and Internet Marketing Team to implement search strategies and track the effectiveness of new and existing campaigns.
3D Modeling and Animation (with Vfx) Job Description
3D animation is one of the fastest growing careers. Since most animated scenes are now created with this type of technology, the demand for this type of technical knowledge is increasing. Visual effects today play a key role in feature films, television programmes, animation, video games and commercials, and, virtually, all forms of entertainment.

iPhone/iPad Application Developer Job Discription
The developer will develop iPhone and iPad apps that will significantly improve the reading experience of today's digital book; integrating video, text, images, interactivity, 3D modeling and social media. Responsibilities include development, build, unit-testing and documentation. Will need to work closely with product management and creative team to define and shape the product.


Android Application Developer Job Discription
The Android developers build unique, creative applications for Android platform devices. The Expert Android developers have an in-depth knowledge of Google Android SDK which helps to create some amazing and great android apps for The clients. Professional Android Developers are fully capable to develop any complex Android application from the scratch.


Web Design Application Developer Job Discription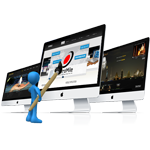 The Web Application Developer will be responsible for supporting the existing infrastructure as well as develop new technologies. The web developer are an expert in using the dynamic programming tools and languages that fuel the Web. The developer builds and integrates interactive Web sites, applications, and services for both internal and public sites and testing them on various browsers, enhancing and modifying them as necessary to ensure the best experience for the user.




Send Resume:
As an ZeroMile associate, you will design, develop, test and maintain various projects and their functions, features and supporting systems.

We are looking for the candidates with creative approach to complete any assigned task. You'll also need to be able to follow technical plans. Excellent communication and customer care skills are also important.

To become your associate, you have to go through apptitude test, technical round and then finally a personal interview round with our experts. A candidate will be selected only after clearing all the three rounds.

To get a call for an interview, send us your resume at info@zeromile.net

Contact us
Sadar Nagpur, India

+91 9607093218

info@zeromile.net